OTIS Federal Credit Union Helps Break Fundraising Records for Ending Hunger in 2022
For Immediate Release
February 23, 2023
OTIS Federal Credit Union Helps Break Fundraising Records for Ending Hunger in 2022
JAY, Maine— OTIS Federal Credit Union is pleased to announce that it raised over $20,000 for the Maine Credit Unions' Campaign for Ending Hunger in 2022. Some specific fundraising activities undertaken by the Credit Union throughout 2022 included hosting a Soup Day, Yard Sale, Plant Sale, and multiple Book Sales; and selling sunflowers, craft items, and Narrow Gauge movie passes.
Fundraising totals were announced at the Ending Hunger Celebration Luncheon, held on February 15th at the Harraseekett Inn in Freeport. OTIS FCU representatives attending included Chris Bouchard, President/CEO; Darice Roy, Vice President; Ryan Souther, Digital Branch & Facilities Manager; and Kimberly Couture, Director of Marketing & Communications. Darice and Ryan are Co-Chairs of OTIS FCU's Ending Hunger Committee.
For the calendar year of 2022, there was 100% participation by Maine Credit Unions for the Ending Hunger Campaign. The amount raised statewide came to $1,000,434.19, making the total raised since 1990 over $12.3 million.
After including a "bonus" from the Maine Credit Union League for being in the top 25 credit unions for fundraising, OTIS has a total amount of $21,827.90 that will be distributed to hunger organizations in the local community.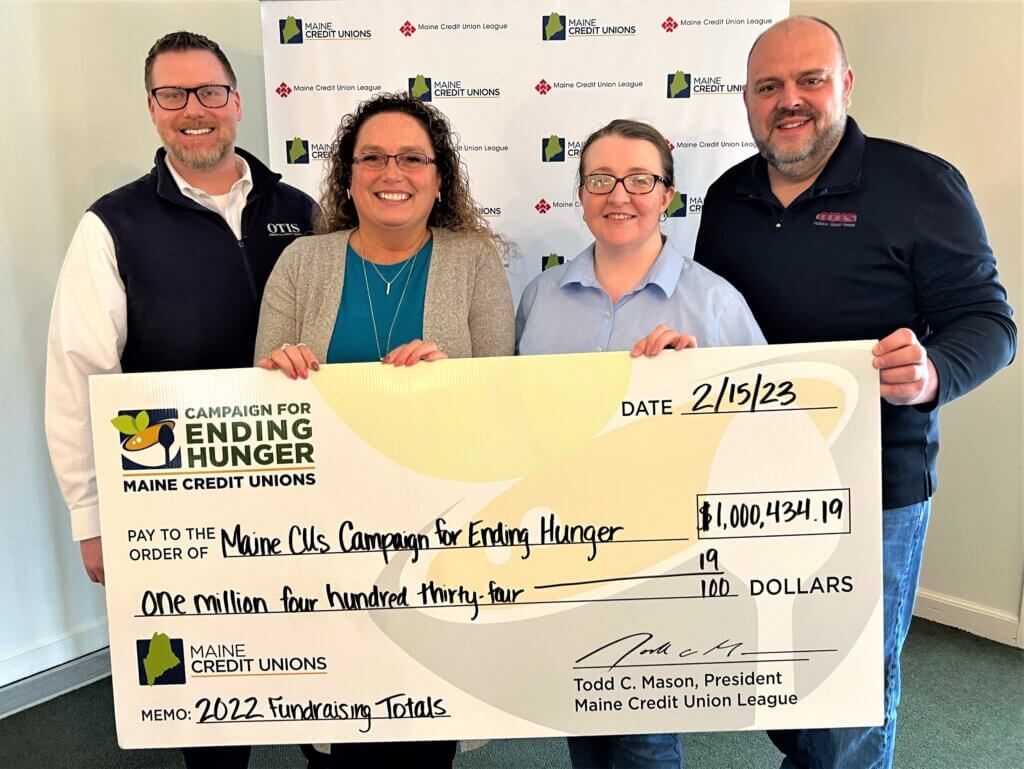 Media Inquiries
Please direct all media inquiries to Kimberly Couture, Director of Marketing and Communications, at (207) 320-4985, or email KimberlyC@otisfcu.coop.
About OTIS Federal Credit Union
OTIS Federal Credit Union was founded in April of 1954 by eleven local millworkers. Pooling their respective deposits of $5 each, they associated themselves as charter members of OTIS under the provision of the Federal Credit Union Act. At a time in America when obtaining a loan was difficult for the average family, the founders of OTIS sought to form a cooperative, independent financial institution operated and controlled solely by its local membership.
Since its inception, OTIS has been committed not only to providing quality financial products and services to its shareholders, but to giving back to the community. Today, OTIS is a full-service financial center offering real estate, auto, and personal lending; online and mobile banking; a variety of checking, savings, and investment accounts; Visa debit and credit cards; financial planning; and much more. OTIS serves more than 11,000 members and holds over $238 million in assets, employing 30 people from Jay and the surrounding area. The Credit Union is located at 170 Main Street in Jay, Maine. For more information, please visit www.otisfcu.coop or call (207) 897-0900.
###