Surcharge-Free ATMs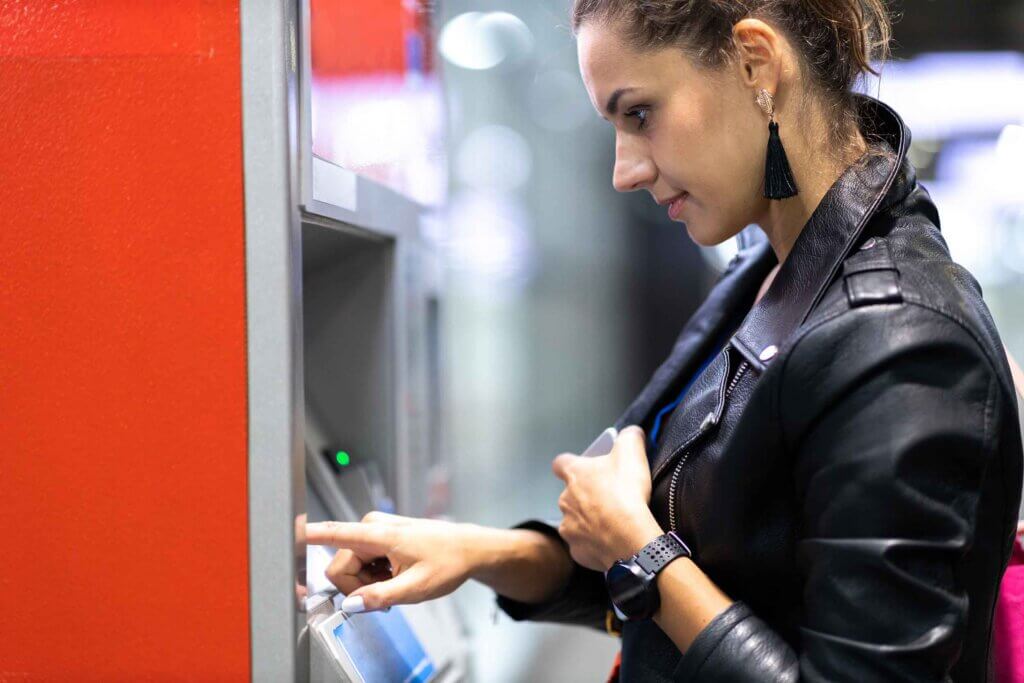 Our full color, touch screen, drive-up ATM is located at our office at 170 Main Street in Jay. OTIS FCU's ATM is always surcharge-free for our members.
Not near the Credit Union, and need to conveniently access your cash? Your OTIS membership also gives you access to over 150 fee-free ATMs in the state of Maine and over 30,000 fee-free ATMs nationwide via the CO-OP ATM Network. As of March 2022, all Hannaford Supermarkets now belong to the CO-OP ATM Network.
To locate a CO-OP ATM near you, no matter where you are:
Visit the CO-OP Website: CO-OP ATM Search
Send a Text: Text a zip code to 91989 to find nearby ATM and Shared Branch Locations.
SB = Shared Branch
SBX = Shared Branch Express
Call: Call 888-748-3266 to find a location by telephone.
Fee-Free ATMs in Maine
| Bank | Address | City / Town |
| --- | --- | --- |
| NORSTATE FCU | 23 STATION ST | ASHLAND |
| CENTRAL MAINE FCU | 836 CENTER ST | AUBURN |
| DIRIGO FCU | 20 WASHINGTON ST N | AUBURN |
| FIVE COUNTY CU | 1250 TURNER ST | AUBURN |
| FIVE COUNTY CU | 100 MOUNT AUBURN RD | AUBURN |
| MAINE FAMILY FCU | 831 MINOT AVE | AUBURN |
| FIVE COUNTY CU | 201 CIVIC CENTER DR | AUGUSTA |
| DOWN EAST CU | 23 THIRD AVE | BAILEYVILLE |
| DOWN EAST CU | 24 SPRINGER DR | BANGOR |
| CARDTRONICS | 624 WASHINGTON ST | BATH |
| FIVE COUNTY CU | 145 WATER ST | BATH |
| FIVE COUNTY CU | 700 WASHINGTON ST | BATH |
| FIVE COUNTY CU | 765 WASHINGTON ST | BATH |
| DOWN EAST CU | 92 LINCOLNVILLE AVE | BELFAST |
| NORTHEAST CU | 380 PORTLAND ST | BERWICK |
| FCTI | 66 ALFRED ST | BIDDEFORD |
| NORTHEAST CU | 1 POOL ST | BIDDEFORD |
| PEOPLESCHOICE CU | 369 ELM ST | BIDDEFORD |
| TRUCHOICE FCU | 40 MAIN ST | BIDDEFORD |
| FIVE COUNTY CU | 9 MAIN ST | BOWDOINHAM |
| FCTI | 152 MAIN ST | BRUNSWICK |
| FIVE COUNTY CU | 171 BATH ROAD | BRUNSWICK |
| TRUCHOICE FCU | 779 NARRAGANSETT TRAIL | BUXTON |
| DOWN EAST CU | 295 NORTH ST | CALAIS |
| CARDTRONICS | 45 CHURCH ST | DEXTER |
| NORSTATE FCU | ROUTE 11 | EAGLE LAKE |
| NORSTATE FCU | 164 MARKET STREET | FORT KENT |
| FCTI | 16 MAIN ST | GORHAM |
| OTIS FCU | 170 MAIN ST | JAY |
| OTIS FCU | 300 RILEY RD | JAY |
| NORTHEAST CU | 45 PORTLAND RD | KENNEBUNK |
| NORTHEAST CU | 40 DOCK SQUARE | KENNEBUNKPORT |
| FCTI | 169 STATE ROAD | KITTERY |
| FCTI | 286 US-1 | KITTERY |
| NORTHEAST CU | PORTSMOUTH NAVAL SHIPYARD BLDG 14 | KITTERY |
| NORTHEAST CU | 167 BEAUMONT ST | KITTERY |
| CENTRAL MAINE FCU | 1000 LISBON ST | LEWISTON |
| DIRIGO FCU | 381 MAIN ST | LEWISTON |
| FCTI | 345 MAIN ST | LEWISTON |
| FIVE COUNTY CU | 95 PARK ST | LEWISTON |
| MAINE FAMILY FCU | 555 SABATTUS ST | LEWISTON |
| FIVE COUNTY CU | 218 LISBON ST | LISBON |
| DOWN EAST CU | 211 MAIN ST | MACHIAS |
| NORSTATE FCU | 78 FOX ST | MADAWASKA |
| NORSTATE FCU | 292 MAIN ST | MADAWASKA |
| NORSTATE FCU | 60 BRIDGE STREET | MADAWASKA |
| DIRIGO FCU | 1 LEWISTON ST | MECHANIC FALLS |
| OXFORD FCU | 225 RIVER RD | MEXICO |
| CARDTRONICS | 639 ROOSEVELT TRAIL | NAPLES |
| CARDTRONICS | 19 OAK ST | OAKLAND |
| FCTI | 217 SACO AVE | OLD ORCHARD BEACH |
| OXFORD FCU | 1591MAIN ST | OXFORD |
| FCTI | 704 CONGRESS ST | PORTLAND |
| FCTI | 1917 FOREST AVE | PORTLAND |
| FCTI | 27 WASHINGTON AVE | PORTLAND |
| FIVE COUNTY CU | 56 COMMERCIAL ST | PORTLAND |
| FIVE COUNTY CU | 19 COMMERCIAL ST | PORTLAND |
| FIVE COUNTY CU | 14 OCEAN GATEWAY PIER | PORTLAND |
| TRUCHOICE FCU | 2211 CONGRESS ST | PORTLAND |
| TRUCHOICE FCU | 175 FORE RIVER PKWY | PORTLAND |
| TRUCHOICE FCU | 144 STATE ST | PORTLAND |
| TRUCHOICE FCU | 272 PARK AVE | PORTLAND |
| TRUCHOICE FCU | 50 COUNTY WAY | PORTLAND |
| TRUCHOICE FCU | 109 MIDDLE ST | PORTLAND |
| TRUCHOICE FCU | 335 BRIGHTON AVE | PORTLAND |
| TRUCHOICE FCU | 22 BRAMHALL ST | PORTLAND |
| DOWN EAST CU | 151 MAIN ST | RICHMOND |
| FIVE COUNTY CU | 517A MAIN ST | ROCKLAND |
| FIVE COUNTY CU | 710 MAIN ST | ROCKLAND |
| NORTHEAST CU | 1001PORTLAND RD | SACO |
| PEOPLESCHOICE CU | 23 INDUSTRIAL PARK RD | SACO |
| NORTHEAST CU | 48 ALFRED RD | SANFORD |
| PEOPLESCHOICE CU | 39 COUNTRY CLUB RD | SANFORD |
| FIVE COUNTY CU | 500 GALLERY BLVD. | SCARBOROUGH |
| TRUCHOICE FCU | 100 US ROUTE 1 | SCARBOROUGH |
| TRUCHOICE FCU | 300 SOUTHBOROUGH DR | SCARBOROUGH |
| CARDTRONICS | 386 MADISON AVE | SKOWHEGAN |
| CARDTRONICS | 260 WATER ST | SKOWHEGAN |
| FIVE COUNTY CU | 60 FAIRGROUNDS MARKET PLACE | SKOWHEGAN |
| DIRIGO FCU | 172 PINE ST | SOUTH PARIS |
| MAINE SOLUTIONS FCU | 82 RUNNING HILL RD | SOUTH PORTLAND |
| MAINE SOLUTIONS FCU | 5 FODEN RD | SOUTH PORTLAND |
| MAINE SOLUTIONS FCU | 209 WESTERN AVE UNIT 6 | SOUTH PORTLAND |
| MAINE SOLUTIONS FCU | 333 WESTERN AVE BLDG 7 | SOUTH PORTLAND |
| TRUCHOICE FCU | 443 WESTERN AVE | SOUTH PORTLAND |
| TRUCHOICE FCU | 2 GANNETT DR | SOUTH PORTLAND |
| FCTI | 489 MAIN ST | SPRINGVALE |
| DOWN EAST CU | 94 MAIN ST | TOPSHAM |
| FIVE COUNTY CU | 3 HAMILTON COURT-LANE 2 | TOPSHAM |
| DOWN EAST CU | 58 SCHOOL ST | UNITY |
| NORSTATE FCU | 306 MAIN ST | VAN BUREN |
| CARDTRON ICS | 42 COLLEGE AVE | WATERVILLE |
| FIVE COUNTY CU | 80 WATERVILLE COMMONS DR | WATERVILLE |
| PEOPLESCHOICE CU | 774 POST RD ROUTE 1 | WELLS |
| TRUGROCERFEDERALCU | 205 SPENCER DR | WELLS |
| NORTHEAST CU | 17 WESTBROOK COMMON | WESTBROOK |
| FIVE COUNTY CU | 30 LANDING RD | WINDHAM |
| FIVE COUNTY CU | 219 US RT | YARMOUTH |
Hannaford Supermarket Fee-Free ATMs in Maine
| Location | Address | Phone Number |
| --- | --- | --- |
| Auburn Hannaford | 95 Spring Street | 207-784-6497 |
| Augusta Cony Hannaford | 118 Cony Street | 207-621-2570 |
| Turnpike Mall Hannaford in Augusta | 29 Whitten Rd. | 207-622-3137 |
| Airport Mall Hannaford in Bangor | 1133 Union St. | 207-942-0100 |
| Broadway Hannaford in Bangor | Broadway Shopping Ct | 207-947-8338 |
| Hogan Road Hannaford in Bangor | Bangor Mall | 207-947-6735 |
| Bar Harbor Hannaford | 86 Cottage St | 207-288-5680 |
| Belfast Hannaford | 93 Lincolnville Ave | 207-338-5377 |
| Bethel Foodliner ME | 71 Main Street | 207-824-2121 |
| Biddeford Hannaford | 299 Elm Street | 207-284-8677 |
| Boothbay Harbor Hannaford | Route 27 | 207-633-6465 |
| Brewer Hannaford | 383 Wilson St | 207-989-2500 |
| Bridgton Hannaford | 109 Portland Road | 207-647-2015 |
| Brunswick Hannaford | 35 Elm St | 207-725-6683 |
| Bucksport Hannaford | 370 Main Street | 207-469-3282 |
| Buxton Hannaford | 24 Portland Rd | 207-929-3100 |
| Camden Hannaford | 145 Elm Street | 207-236-8577 |
| China Hannaford | 33 Hannaford Drive | 207-445-3385 |
| Damariscotta Hannaford | Damariscotta Plaza | 207-563-8131 |
| Waterboro Hannaford in East Waterboro | Hc 72 Box 2100 | 207-247-8000 |
| Ellsworth Hannaford | Maine Coast Mall | 207-667-5300 |
| Falmouth Hannaford | 65 Gray Road | 207-878-0050 |
| Farmington Hannaford | Rr#4 Box 5027 | 207-778-0434 |
| Gardiner Hannaford | 40 Main Avenue | 207-582-3470 |
| Gorham Hannaford | 99 Main St. | 207-839-6553 |
| Gray Hannaford | 130 Shaker Road | 207-657-5800 |
| Hampden Hannaford | 77 Western Ave | 207-862-5444 |
| Jay Hannaford | 15 Jay Plaza Lane | 207-897-4376 |
| Kennebunk Hannaford | 65 Portland Road | 207-985-9135 |
| Lewiston Hannaford | 692 Sabattus St | 207-784-0721 |
| Lincoln Hannaford | Lincoln Plaza Route 2 | 207-794-6122 |
| Machias Hannaford | 149 Dublin Street | 207-255-3201 |
| Madison Hannaford | 225 Upper Main St | 207-696-3949 |
| Millinocket Hannaford | Magic City Shop Ctr | 207-723-8047 |
| North Windham Hannaford | 797 Roosevelt Trail | 207-892-2532 |
| Old Town Hannaford | 500 Stillwater Ave. | 207-827-2700 |
| Oxford Hannaford | 1603 Main Street | 207-743-2522 |
| Forest Ave. Hannaford in Portland | Hannaford Plaza | 207-761-5965 |
| Riverside Hannaford in Portland | 787 Riverside St. | 207-878-0191 |
| Rockland Hannaford | 75 Maverick St | 207-594-2173 |
| Rumford Hannaford | 520 Waldo Street | 207-364-3771 |
| Saco Hannaford | 532 Main Street | 207-282-4152 |
| Sanford Hannaford | 800 Main St. | 207-324-1554 |
| Scarborough Hannaford | 31 Hannaford Dr. | 207-883-7670 |
| Skowhegan Hannaford | 496 Madison Ave | 207-858-4800 |
| Maine Mall Hannaford in South Portland | Hannaford Plaza | 207-761-2729 |
| South Portland Mill Creek Hannaford | 50 Cottage Road | 207-799-7359 |
| Standish Hannaford | 71 Colonial Drive | 207-642-5533 |
| Topsham Hannaford | 49 Topsham Fair Mall | 207-729-5124 |
| Waldoboro Hannaford | Routes 1 and 32 | 207-832-4358 |
| Waterville Elm Plaza Hannaford | 140 Elm Plaza | 207-877-0700 |
| Waterville JFK Hannaford | 190 JFK Plaza | 207-873-0788 |
| Wells Hannaford | Rr 3 Box 422-2 | 207-646-4111 |
| Westbrook Hannaford | 7 Hannaford Drive | 207-854-4631 |
| Winthrop Hannaford | 399 Main Street | 207-377-3150 |
| Yarmouth Hannaford | Shoppers Village | 207-846-5941 |
| York Hannaford | 440 Route #1 | 207-363-5357 |