OTIS Federal Credit Union Donates to Maine's Paper & Heritage Museum to Help Match Grant for Building Repairs
For Immediate Release
August 2, 2023
OTIS Federal Credit Union Donates to Maine's Paper & Heritage Museum to Help Match Grant for Building Repairs
JAY, Maine—OTIS Federal Credit Union has donated $5,000 to Maine's Paper & Heritage Museum, located in Livermore Falls, Maine. This donation brings the Paper Museum closer to its goal of raising $25,000 to match a grant received for building repairs.
The Paper Museum building is listed on the National Register of Historic Places and was originally built in 1906. Due to the age of the building, the foundation and gutters need repair, as well as the leaky roof. To fix the foundation and gutter system, the museum received a $25,000 matching grant from the Historic Preservation Fund, which is administered by the National Park Service, Department of the Interior and the Maine Historic Preservation Commission. The grant requires that the museum raise $25,000 in matching funds by the end of November 2023. According to Museum President Greg Bizier, they had raised $8,000 toward this grant before OTIS FCU's donation.
After being made aware of the museum's financial needs, the OTIS Federal Credit Union Board of Directors immediately acted and voted to donate $5,000. Regarding this decision, OTIS FCU President/CEO Chris Bouchard remarked, "The paper industry helped shape this community and provide for generations of families as well as businesses both near and far. Being a Credit Union founded by local millworkers, it's in our heritage. The remarkable individuals who volunteer at this museum are committed to preserving our community's unique history in the paper industry. We are honored and privileged to be able to provide support to Maine's Paper and Heritage Museum."
Maine's Paper & Heritage Museum has many different artifacts and displays about the paper industry in general in addition to local community and paper mill history. Their mission is "To create an exciting interactive museum where visitors can experience life in a paper-making community, as well as to encourage tourism, increase economic activity and showcase the distinctive heritage of the area." When asked how the recent closure of the last paper mill in the area has affected the museum's mission, Museum Vice President and Founder Sherry Judd said, "It's actually increased our mission, because we have gotten so much more artifacts and history coming to the museum now." Bizier added, "All the more important because we don't want to lose this heritage, a hundred and forty-six years of making paper."
OTIS Board of Directors Chairman Duane Lake and Vice Chairman Gary Desjardins encourage those who have relatives that worked in the paper industry to consider donating to the Paper Museum in their memory. Or if you are a business in the area, consider matching OTIS FCU's recent donation. If enough in the community come together, we can exceed the museum's fundraising goal and continue to preserve the local heritage and memories of the hard-working people who helped build this community.
The Paper Museum is funded by private donations and run by volunteers. Tax-deductible donations can be made directly at the museum, online at www.papermuseumofmaine.org, or mailed to Maine's Paper & Heritage Museum, P.O. Box 293, Jay, ME 04239. The museum is open on Saturdays from 10am till noon from June through August, or by appointment, and is located at 22 Church Street in Livermore Falls.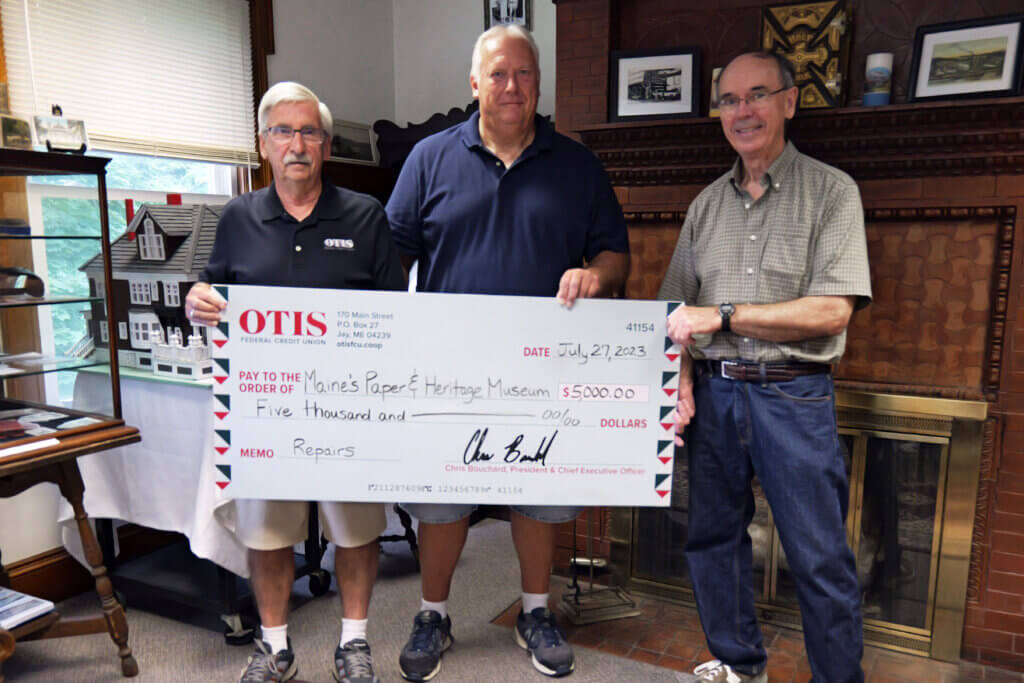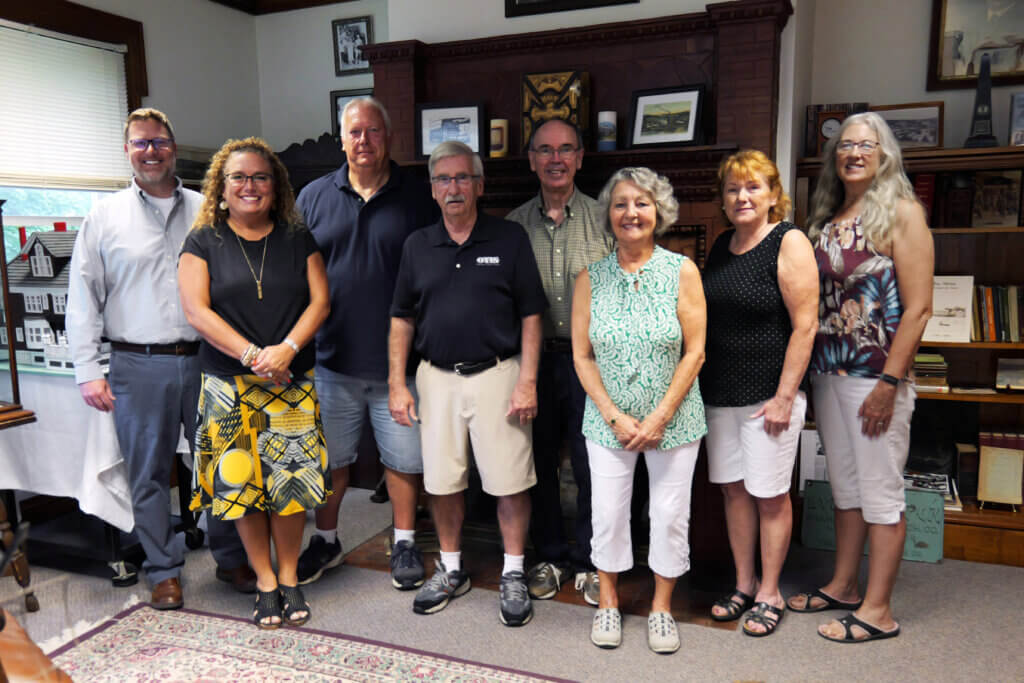 Media Inquiries
Please direct all media inquiries to Kimberly Couture, Director of Marketing and Communications, at (207) 320-4985, or email KimberlyC@otisfcu.coop.
About OTIS Federal Credit Union
OTIS Federal Credit Union was founded in April of 1954 by eleven local millworkers. Pooling their respective deposits of $5 each, they associated themselves as charter members of OTIS under the provision of the Federal Credit Union Act. At a time in America when obtaining a loan was difficult for the average family, the founders of OTIS sought to form a cooperative, independent financial institution operated and controlled solely by its local membership.
Since its inception, OTIS has been committed not only to providing quality financial products and services to its shareholders, but to giving back to the community. Today, OTIS is a full-service financial center offering real estate, auto, and personal lending; online and mobile banking; a variety of checking, savings, and investment accounts; Visa debit and credit cards; financial planning; and much more. OTIS serves more than 11,000 members and holds over $238 million in assets, employing 29 people from Jay and the surrounding area. The Credit Union is located at 170 Main Street in Jay, Maine. For more information, please visit www.otisfcu.coop or call (207) 897-0900.
###